Touch sensitive Hammer Action Digital Stage Piano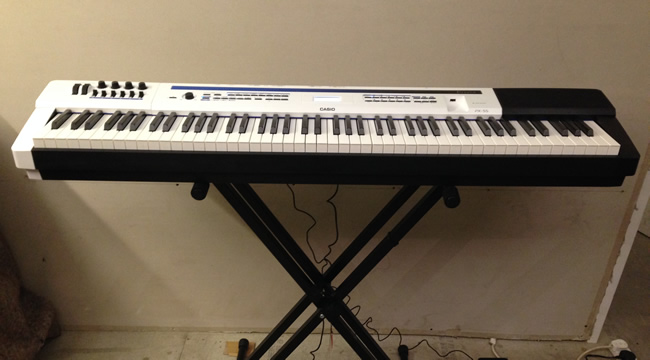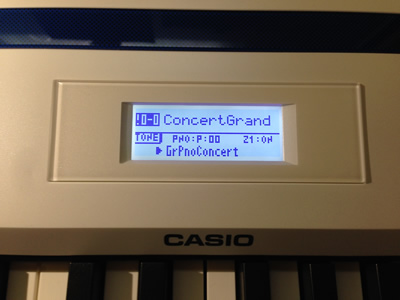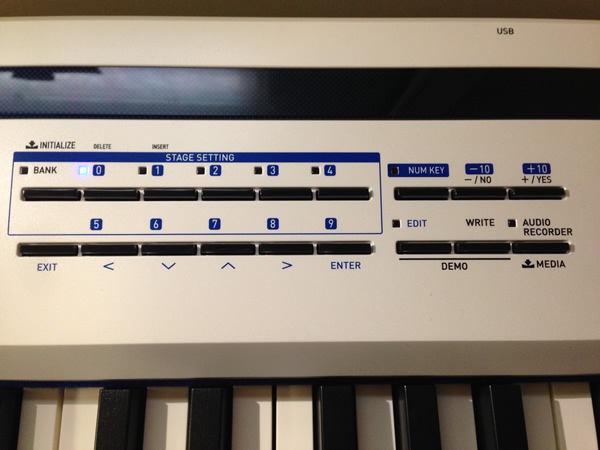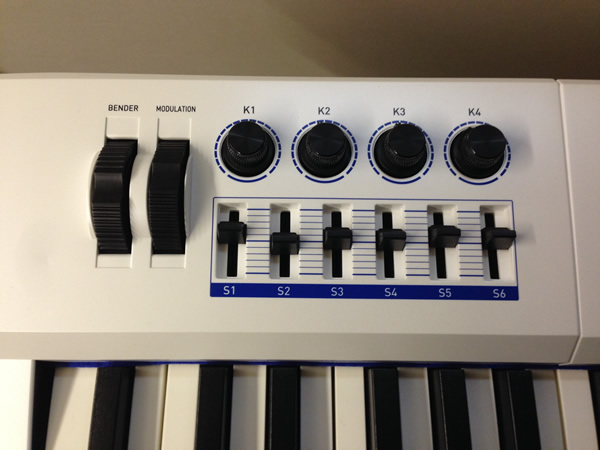 Take a Look at the link below for a review of the PX5 Digital stage piano.
http://www.soundonsound.com/reviews/casio-privia-px5s
Equipped with new proprietary AiR Sound Source technology, the PX-5S delivers acoustic piano sounds with unmatched realism and detail. The power of AiR technology is applied to an all new set of authentic vintage electric piano sounds and clavinets that is paired by a powerful new effects engine, giving the PX-5S an arsenal of both acoustic and electric piano sounds.
Main Features

MIDI IN/OUT
16 multi-timbre received, GM level 1 standard
Keyboard
3 sensitivity levels, Off
Touch Response
Weight
11.1 kg (without optional stand, batteries)
Power Supply
2 way
AC Adaptor: 12V 1.5A
Batteries: AA-size zinc-carbon batteries or alkaline batteries
Battery Life: Approximately 3 hours
Effects
Effects Reverb
Chorus
String Resonance
Damper Resonance
Delay
Master Equalizer
Compressor
Sound Source
Multi-dimensional Morphing AiR Sound Source *1
Maximum Polyphony
256(Audio Player occupies 2)
Phrase Sequencer
Phrase 1
Playback Mode One-time Loop
Memory Capacity One phrase up to 8 KB (approximately 1,600 notes); 1,000 phrases totaling a maximum of 1 MB
Other Overdubbing
Songs 10
Other Functions
Transpose 1 Octaves (-12 to 0 to + 12 Semitones)
Octave Shift 3 Octaves
Tuning A4 = 415.5 - 440.0 - 465.9 Hz
Arpeggios 100 Preset, 100 User
Scale Function Temperaments: 17 preset
Stretch Tuning 8 types
Operation Lock Yes
Terminals
MIDI Midi In, Midi Out/Thru
Phones Stereo Standard Jack
Line Out 2 (L/MONO, R)
Audio In Stereo Mino Jack
Line IN 2 (L/MONO, R)
USB Host Port Yes
USB Flash Drive Port Yes
Pedal 2 (Assignable)
Size (W X D X H)
1,322 × 286 × 135 mm (not including protruding parts)
MIDI
16 multi-timbre received, GM level 1 standard
Piano Details
Model: PX5
Colour: Black
Finish: Satin
Year of make: New
Keys: 88 Tri-Sensor Scaled Hammer Action Keyboard
Suitable For: Beginner to Expert
Warranty: 1 Year
Bench: Yes
Delivery: £N/A

Price: £N/A

Accessories: Bench, AC adaptor, Pedal, 1 year parts and labour warranty.
Dimensions: Metric
Height: 13.5 cm
Depth: 29 cm
Width: 132 cm

Dimensions: Imperial
Height: Inches
Depth: Inches
Width: Inches