We no loger stock Moutrie pianos
Moutrie 122 Upright New Piano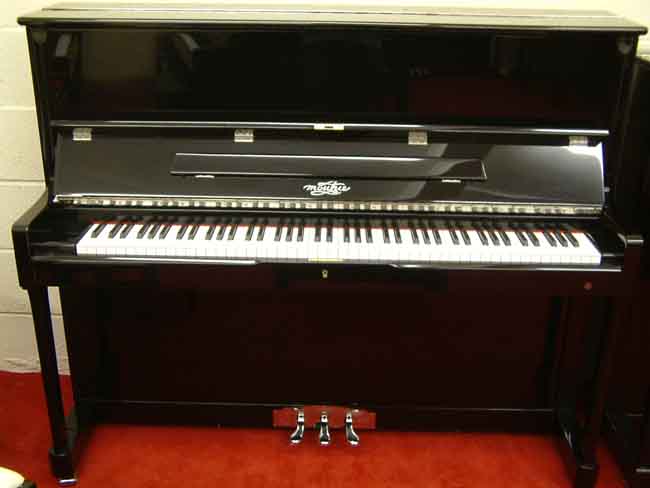 Slightly larger than the 112 model giving a stronger bass section.
Features of the Moutrie Pianos. The Majority of the main parts are made of materials from Germany or Japan.
The hammers are Renner German felt. German Roslau Brand piano wire. The soundboard is made of high quality
pine from the Changbai Mountains or spruce from Tibet. The bridge is made of high-quality maple wood. German technology is used in the making of the action. The pin block is made of 17 layers of sycamore. Hydraulic pressure slowing device is used for the Keyboard cover (Known as The Fall).
Piano Details
In Stock: N/A
Model: Moutrie 122
Colours: Black, White or Mahogany
Finish: High Gloss
Year of make: New
Overstrung: Yes
Underdamper: Yes
Re-polished: N/A
Restored: N/A
Ivory Keys: No
Octaves: 7 1/4
Practice Pedal: Yes
Tone: Mellow
Touch: Medium to Heavy
Recommended For: Classical & Modern Music
Warranty: 5 Years
Piano Stool: Yes (Adjustable)

Price: £N/A
Rental: £N/A Monthly
Deposit Required: £N/A

Buy this Piano From: £N/A a Month on a 36 month Hire Purchase Contract with 0% Interest
Deposit Required: £N/A

Accessories: Adjustable Stool,
Five year parts and labour warranty.
Dimensions: Metric
Height: 122cm
Depth: cm
Width: cm

Dimensions: Imperial
Height: Inches
Depth: Inches
Width: Inches
Medium tone with a Medium touch.