Yamaha U1 Upright Piano Re-polished in a Mirror White High Gloss finish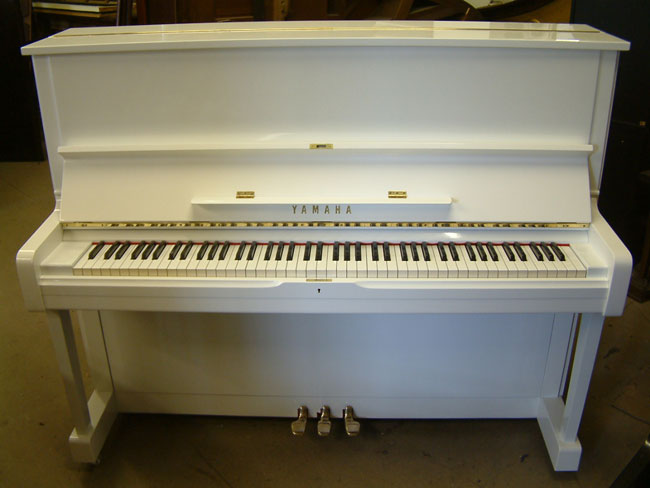 These Pianos can be re-polished High Gloss to order and take 6-8 weeks from order to completion.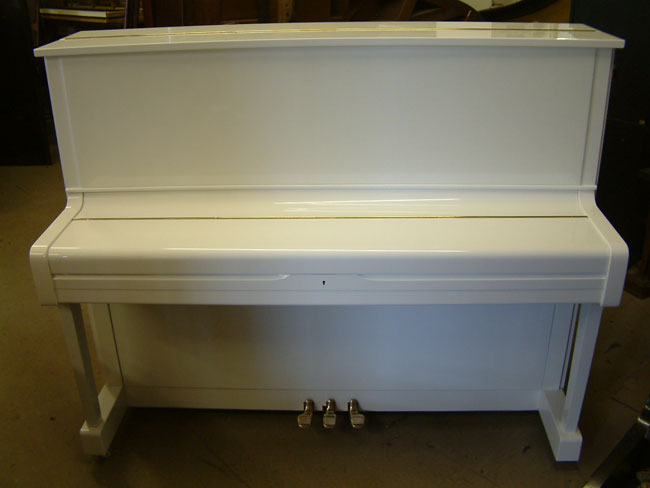 Below are some more images showing the White High Gloss Finish & Sheen level.
Note: All Names where needed are replaced with Vinyl Transfers and lacquered over except on AC Full Gloss finishes that are White or other light
colours, these can't be sprayed over without yellowing due to the colour of clear AC Lacquer so these will be applied on top of the finished surface.
Piano Details
Model: Yamaha U1
Colour: White
Finish: High Gloss (Mirror Finish)
Year of make: 1970's
Overstrung: Yes
Underdamper: Yes
Re-polished: Pending
Restored: Pending
Ivory Keys: No
Octaves: 7 1/4
Warranty: 5 Years
Piano Stool: Yes

Price: £SOLD

Accessories: Adjustable Stool, Five year parts and labour warranty.
Dimensions: Metric
Height: 121 cm
Depth: 61 cm
Width: 150 cm

Dimensions: Imperial
Height: 47 5/8 Inches
Depth: 24 Inches
Width: 59 1/16 Inches
Medium tone with a Medium touch.
Traditional Style Modern Japanese Yamaha U Series upright piano with 88 note keyboard Re-polished in a White High Gloss Mirror Finish.
Once our Pianos are Re-polished and Restored they are all tuned to concert pitch and regulated, after the Piano has been delivered each and every piano requires a settling in period of approximately 4-6 weeks.
If the piano requires retuning it will be after the settling in period or within 6 months of delivery.