Touch sensitive Hammer Action Digital Piano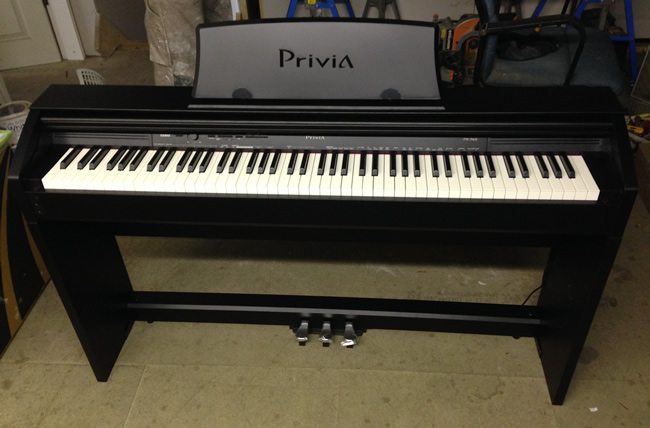 With its expressive timbre, the PX-76 offers to all piano purists a selection of sounds which is very close to an acoustic instrument. This focus on pure piano sounds is supported by the integrated triple pedal unit with its damper resonance producing fine sound quality. The new "Concert-Play" function is also integrated into the PX-76 and its perfect piano playing. With 10 orchestral pieces for piano,piano parts can be practiced and played, with tempos that can be changed.
Specifications
Number of keys: 88
Key action: Tri-Sensor Scaled Hammer Action Keyboard II
Key surface finish: Simulated ebony and ivory keys
Touch response: 3 sensitivity levels, off
Polyphony: (maximum) 128
Number of built-in tones: 18 New, enhanced tones
Sound source: Multi-dimensional Morphing AiR
Stereo-sampled piano tones: Yes
Layer/Split: Yes/Yes
Hammer Response: Yes
Damper Resonance: Yes
Types: Reverb 4, Chorus 4
Brilliance: Yes (-3 ~ 0 ~ 3)
DSP: Yes (preset for some tones)
Number of built-in songs: 60
Song expansion: (user songs)
10 songs: (max.) up to approximately 90KB/song
Concert Play: 10 Songs
Lesson function: Part on/off
Lesson part select: Right hand, left hand
Recorder: 2 tracks, 1 song
Approximate data capacity: Approximately 5,000 notes total
Duet mode: Yes
Octave shift: ±2 octaves
Metronome: 0, 2, 3, 4, 5, 6 beats; tempo range: 20 to 255
Pedals: 3 built-in pedals (damper, soft, sostenuto)
Half-damper pedal operation: Yes
Transpose: 2 octaves (-12 semitones ~ 0 ~ +12 semitones)
Tuning control: A4 = 415.5Hz ~ 440.0Hz ~ 465.9Hz
Scale function: 17 preset scales
Operation lock: Yes
MIDI: Yes
Phones: 2, stereo standard jack
USB port: Yes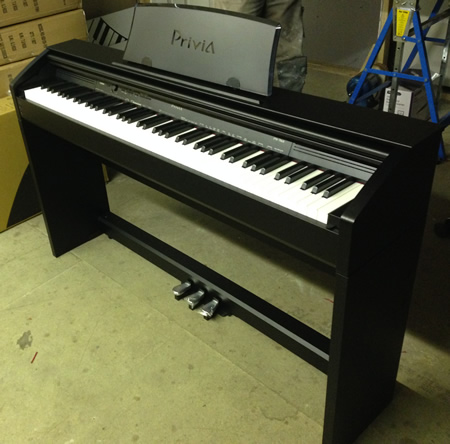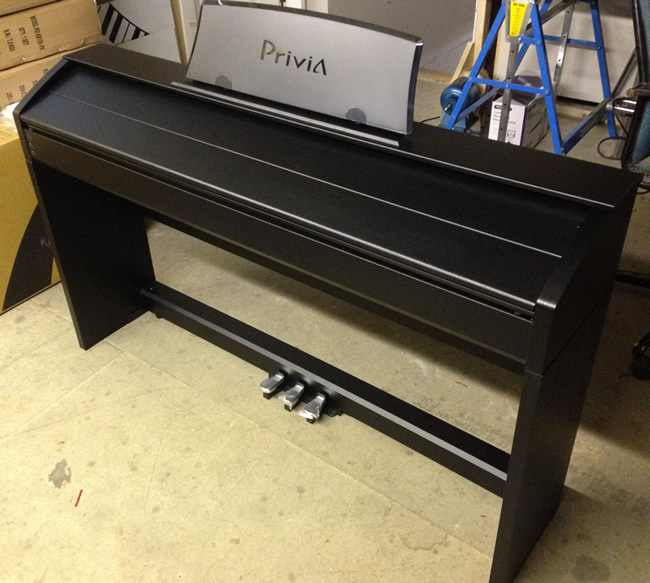 Piano Details
Model: PX76
Colour: Black
Finish: Satin
Keys: 88 Tri-Sensor Scaled Hammer Action Keyboard
Suitable For: Beginner to Expert
Bench: Yes
Delivery: £N/A Assembled

Price: £N/A
Rental: £N/A Monthly
Or

Buy this Piano From: £N/A a Month on
a 24 month Hire Purchase Contract with 0% Interest
Deposit Required: £N/A

Accessories: Matching Bench, Headphones.
Dimensions: Metric
Height: cm
Depth: cm
Width: cm

Dimensions: Imperial
Height: Inches
Depth: Inches
Width: Inches
For more information on our Rental contracts Please visit the link below:
Piano Rental Info.