Casio CTK4400 Keyboard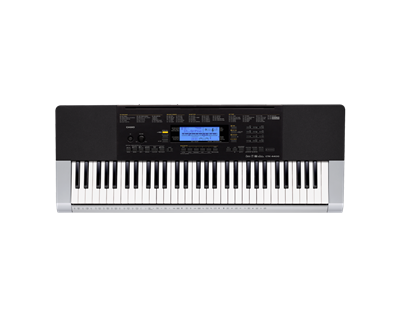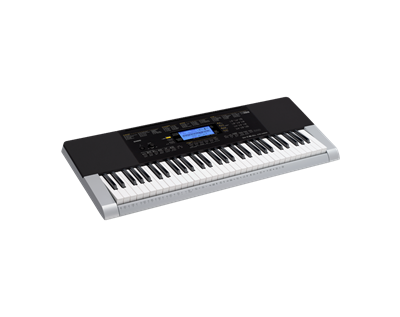 With the CTK-4400, enjoy musical fun with a compact keyboard, making every performance a unique experience.
The built-in Hall effect button allows you to do this in an impressive way: At the touch of a button, concert hall reverb can be applied to the sound of the keyboard, adding authenticity when you play. The keyboard also has 61 dynamic touch keys, 180 lively rhythms and 152 songs, as well as 32 registration memories allowing you to store settings such as tempo, tones or rhythms easily.
Main Features
Chord Book
yes
Layer
yes
Lesson Function
Step Up Lesson Right Hand, Left Hand, Both Hands, LISTEN, WATCH, REMEMBER, NEXT, AUTO, Scoring System, Voice Fingering Guide
Music Challenge 20
One touch preset
180
Preset Tones
305
Recorder
Recording System Real Time
Keyboard Play 6 tracks x 5 songs
With Built-in Songs 1 lesson song
Data Capacity approx. 12,000 notes ( total 6 songs)
Registration
32 (4 set-ups x 8 banks)
Song bank tunes
Number of Built-in tunes (Exercise Phrase) 152 (including 50 Exercise Phrases, No copy right song)
Song Expansion (Max number of songs) 10
Controller PLAY / STOP, FF, REW, PAUSE, REPEAT
Pre-count yes
Song Volume 0 to 127
Keyboard
61 keys
Touch Response 2 Types, Off
Power Supply
9.5V DC (AD-E95100L) / 6 AA-size batteries
Rhythms
Number of Built-in Rhythms 180 (including 20 for piano play and 87 world rhythms)
User Rhythms (Rhythm Editor) 10
Accompaniment On / Off
Controller Start / Stop, Intro, Normal / Fill-in, Variation / Fill-in, Synchro / Ending
Accompaniment Volume 0 to 127
Sound Source
AHL
Number of Polyphony (maximum) 48
MIDI GM Level 1 standard
Tones
Tones - Built In 600
Stereo Piano Tones yes
Piano / Organ Button yes
Digital Effects
Reverb 10, Chorus 5, Virtual Hall 1, Auto Harmonize 12, Arpeggiator 90
Metronome
Yes (0, 1, 2, 3, 4, 5, 6, 7, 8, 9 beats)
Key Transpose
25 steps (–12/+12 semitones)
Tuning Control
A4 = 415.5Hz to 465.9Hz (initial Default : 440.0Hz)
Display
129mm x 44mm LCD (with backlight)
Speakers
Size 12cm x 2
Accessories
Song book
Music Stand
Amplifier
2.5W + 2.5W
Scale Function
Number of Preset Scale 17
Sampling Function
Up to 8 Sampling Tones (Melody 5, Drum 3) Up to 10 seconds Sampling Time
Sprit
yes
Octave Shift
yes
Rhythm Editor
yes
Music Preset
305
Tempo
30 to 255BPM
Data Access Function (PC link software required)
Song Expansion (only saving to main board) Max. 10 (SMF format 0, 1)
Sampled Tones Max. 5
Sampled Drum Tones Max. 3
User Rhythms Max. 10
Recorded Songs Max. 5 keyboard play songs + Max. 1 lesson song
Registration Setups yes
All Data (above data) yes
Internal Memory Capacity
Approx. 320KB
Demo Song
102 songs loop play
Auto Power Off
Yes (Approx. 6 min. during battery operation or 30 min during AC adaptor operation)
Piano Details
Model: CTK4400
Colour: Black & Grey
Finish: Satin
Year of make: New
Keys: 61
Suitable For: Beginner to Expert
Warranty: 1 Year
Piano Stool: No
Delivery: £N/A Courier

Price: £SOLD

Accessories: AC Adaptor, 1 year parts and labour warranty.
Dimensions: Metric
Height: cm
Depth: cm
Width: cm

Dimensions: Imperial
Height: Inches
Depth: Inches
Width: Inches