Touch sensitive Hammer Action Digital Piano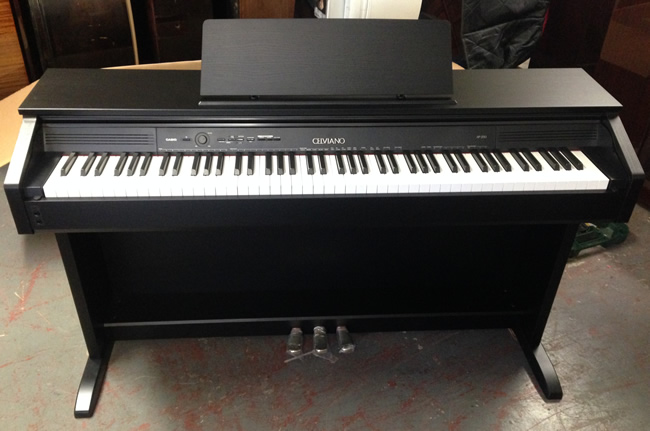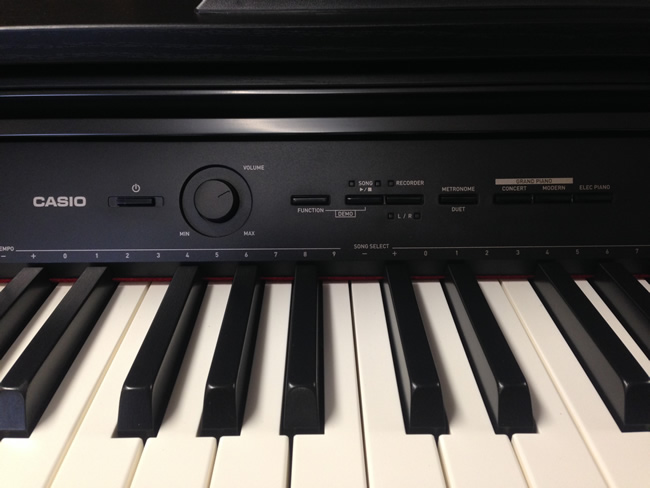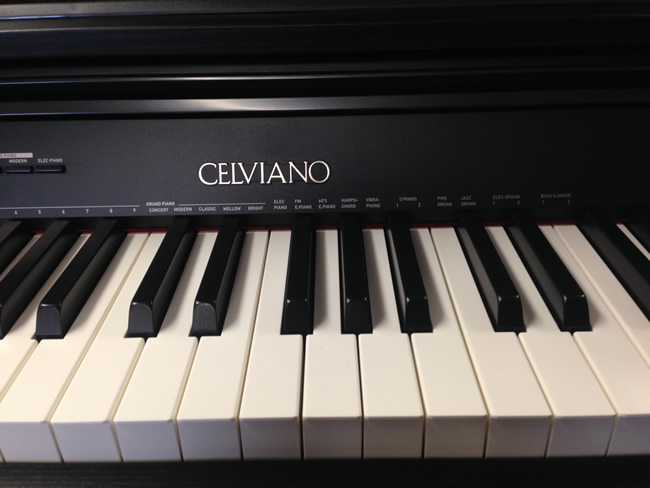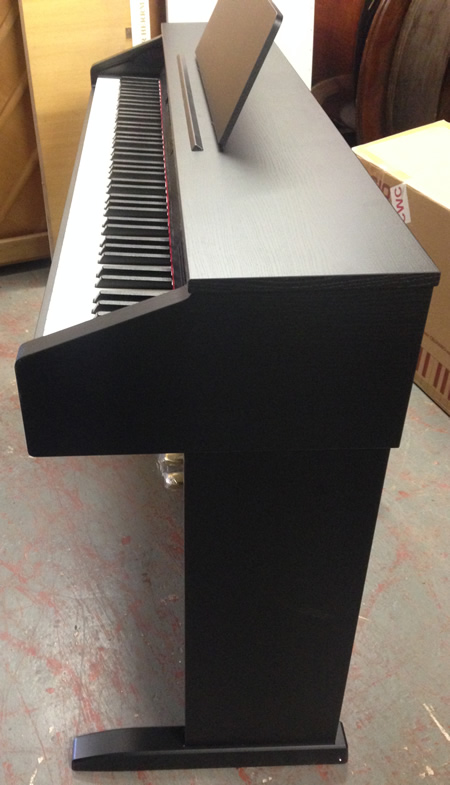 The entry model to the Celviano range provides unparalleled appeal for pianists. The all new Tri-Sensor Scaled Hammer
Action Keyboard II and Multi-Dimensional Morphing AiR Sound Source provides unrivalled technology advances that provide
exceptional key response and feel, along with the rich tonal resonance embodied within acoustic piano sound.
Main Features

Keyboard

88-key, Tri-sensor Scaled Hammer Action Keyboard II, Simulated ebony and ivory keys
Touch Response

3 sensitivity levels, Off
Sound Source

AiR Sound Source
Damper Resonance, Hammer Response, Damper Noise
Maximum Polyphony

128
Tones

18 built-in tones: Grand Piano (Concert, Modern, Classic, Mellow, Bright), Elec Piano1, Elec Piano2, FM E. Piano, 60's E. Piano, Harpsichord, Vibraphone, Strings 1, Strings 2, Pipe Organ, Jazz Organ, Elec Organ 1, Elec Organ 2, Bass (LOWER)
Layer/Split

Layer(Excluding bass tones), Split(Low-range bass tones only)
Digital Effects

Reverb (4 types), chorus (4 types), brilliance (-3 to 0 to 3), DSP (built into some tones)
Built-in Songs

10 (Concert Play), 60 (Music Library)
Song Expansion

10 songs (max.) Up to approximately 90 KB/song
Lesson Function

Part on/off (Lesson part: right hand/left hand)
Metronome

Beats: 0 to 9 (Tempo range: quarter note = 20 to 255)
Recorder

2 tracks x 1 song, approximately 5,000 notes maximum, real-time recording/playback
Other Functions

Grand piano button x 2 (Concert, Modern), ELEC PIANO button
Duet function
Temperaments (preset scale): Equal + 16 other types
Auto Power Off: Off after approx. 4 idle hours (default setting)
Octave shift: ±2 octaves
Panel lock
Slide-type keyboard cover
Key Transpose

2 octaves (-12 to +12 semitones)
Tuning Control

A4 = 415.5 Hz - 440.0 Hz - 465.9 Hz
Pedals

3 pedals (damper, soft, sostenuto)
* damper = on/off
MIDI

This product is not equipped with MIDI terminals. MIDI communication between the product and a computer is performed using the USB port.
Speakers

12cm x 2
Amp Output

8W + 8W
Input/Output Terminals

Headphones (standard stereo jack) x 2
USB: type B
External power (12V DC)
* USB cable (A-B type) required to use USB terminal for computer connection.
Power Requirements

AC adaptor: AD-A12150LW
Dimensions (W x D x H)

1,377 x 432 x 840mm
* Excluding music stand, and other projections
Weight

39.5kg
Body Color/Finish

AP-260BK: Black wood tone finish
AP-260BN: Oak tone finish
Included Accessories

Piano bench, AC adaptor (AD-A12150LW), score book, music stand
Piano Details
Model: AP26
Colour: Black
Finish: Satin
Year of make: New
Keys: 88 Tri-Sensor Scaled Hammer Action Keyboard
Suitable For: Beginner to Expert
Warranty: 1 Year
Bench: Yes
Delivery: £N/A Assembled

Price: £N/A
Rental: £N/A Monthly
Or

Buy this Piano From: £N/A a Month on
a 24 month Hire Purchase Contract with 0% Interest
Deposit Required: £N/A

Accessories: Matching Bench, Headphones, 1 year parts and labour warranty.
Dimensions: Metric
Height: 84 cm
Depth: 43 cm
Width: 137.5 cm

Dimensions: Imperial
Height: Inches
Depth: Inches
Width: Inches